PLAY . DESIGN . SAFE.
Safety Mat, Transformable Furniture, Play Gym
The original designers Play Furniture from South Korea, proudly handmade by experienced and skillful tailors in own factory in manual process, outcome are the unbeatable premium finishing and durability. Incredibly versatile and fun; Safe and comfortable. Totally odor-free, tested and guaranteed free from any harmful material: BPA-free, phtalate-free, PVC-free, formaldehyde-free, solvent-free, heavy metal-free...
Play is an important form of learning especially for kids in their early childhood. As parents, we always encourage our kids to play, in Design Skin, we actually mean PLAY IN SAFE and PLAY CREATIVELY.
Design Skin provide a comfortable playing environment and exceptional protection (shocks absorption) that parents could have a peace of mind to allow and encourage our children to play and explore, it stimulates children mind; and to move around as it improve physical develop and sense.
That is why Design Skin are not only practically functional but also educational. These Original Designer play furniture are versatile to enable more possibilities of how children could play with them creatively.
Design Skin is a world class design awards winning products and company. We have been awarded with many international design prizes for our outstanding shape and excellent material. Besides being soft and safe in the event of shocks, they are also comply with the most restrictive manufacturing standards. Tested and guaranteed exempt from any harmful substances, they are harmless and CE certified (EN71), in conformity with the 2009/48/EC European Union Toy Safety Directive. Made in South Korea in a factory that only manufactures Designskin products.
Facebook : DesignSkin Malaysia

HANDMADE IN KOREA
Designed to last

PREMIUM QUALITY PU/POLYESTER EXTERNAL COVER

The covers we use are the highest class of Polyurethane memorial fabric. It is strong, thick, none slippery, and soft. It is totally odor-free and exempt from any harmful substances. We are carefully treated the cover to be water repellent so that our products would be easy to maintain. The material are fairly resilient too thus it would not deform and transform in shape even prolong period of usage.
EXPERT CRAFTMANSHIP AND RIGOROUS QUALITY INSPECTIONS

Every single piece of furniture we put on the market has been individually assembled and sewn before undergoing numerous and thorough quality checks, therefore Designskin products are characterized by their exceptional quality.

EASY TO MAINTAIN

Designskin furniture are widely used in children centers, kindergartens and schools for years. They are not only playful and protecting the safety of the children in the centers but also easy to clean up to preserve the beautiful outlook and design. They are water resistance, so could clean up easily by gently wipe the surface of our products with a wet cloth or wet tissue. . Keep away from sharp objects.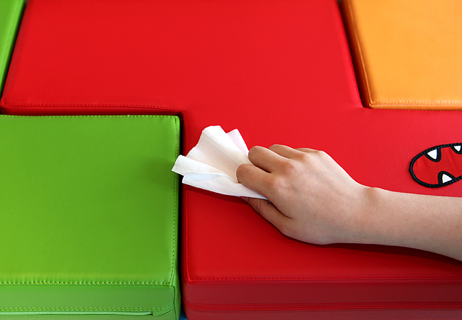 The Design Skin standard of Craftsmanship.
This is the answer of Design Skin exceptional quality and finishing.